Fullerton College Library
Queer Book Club
Have you ever been a book club member? There's never been a better time to connect with fellow literature lovers. The FC Library Queer Book Club includes instructors, staff, and students. Allies welcome!
We've discussed: 1) white fragility, 2) not being brown enough or queer enough, 3) Spanish language in popular American literature, 4) white feminism vs. brown feminism, 5) the hegemony of the canon, & 6) a space cat, of course.
This group was created in response to students' request at the 2019 LGBTQ+ Student Forum.
Want more info?
Contact co-chairs, Acquisitions Strawbrarian Monique Delatte Starkey, mstarkey@fullcoll.edu, & Counselor Lisa Macafee, lmacafee@fullcoll.edu.
Up Next
We will be discussing Stone Butch Blues by Leslie Feinberg. The PDF is free here: https://www.lesliefeinberg.net/. Join us, even if you can't find time to read the book. We enjoy seeing your face & hearing the thoughts that you share!
Where to find the book
Unfortunately, because of campus closure, the library is unable to obtain copies of the book for participating students. But there are several options for finding the book online.
Some ideas:
Check the eBooks at your local public library. Some libraries are offering e-library-cards right now. Residents of LA County can sign up remotely for a library card that grants access to e-resources via (LAPL).

Another option is to sign up for free, 30-day Audible trial, & then cancel before you're charged.

There are also a few purchase options.
Stone Butch Blues by Leslie Feinberg
1994 Lambda Literary Award finalist in the category of Lesbian Fiction
1994 American Library Association Gay & Lesbian Book Award
Falling in Love with Hominids by Nalo Hopkinson
Critic Jason Heller writes that Hopkinson's stories "dazzle with a hard-won sense of hope."
Angels in America by Tony Kushner
Pulitzer Prize for Drama,
Tony Award for Best Play,
Desk Award for Outstanding Play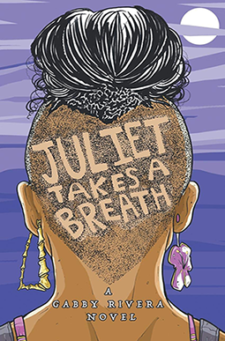 Juliet Takes a Breath by Gabby Rivera
American Library Association Top Ten selection,
Over the Rainbow Project winner,
Independent Publisher Book Award for Gay/Lesbian/Bi/Trans Fiction silver award winner.